Oh my God! We're going backwards! AHH!!!
I was going to explain how I'm letting myself off the hook for all of the 2013 projects/goings on that I haven't blogged about in a "Favorite Photos of 2013" post but that post is taking way longer to write fill with photos than I ever anticipated. I may need to be admitted into a snap happy shooter finger anonymous group but that's besides the point. I can't in good faith let myself get away without chronicling the making Olivia's Christmas stocking.
2013 was O's first Christmas. My mother made my stocking and I was child #3 and she worked full-time so I really didn't feel like I had any excuse to not make Ollie's for her since she's lucky #1 and I'm a stay at home mom. However, I wasn't about to pick up a Bucilla felt stocking kit like mi madre since they really aren't my style anymore and, I feel this is obvious but I'll say it anyway, my style is the style that matters while making a stocking for my daughter. (Please only continue if you can read sarcasm).
To be honest, I began this journey thinking felt was the only way to go. I even contacted the felt queen herself, Alison, as to which felt would be best used in such a project. She was so gracious and quick with her response and I was so slow and cheap with my execution that when it came right down to it, I didn't have the money for the proper felt nor the time to wait for it to be shipped. The search was on!
Long story coming to an end, I knew I wanted to involve some serious faux fur. You know, because all faux fur should be serious. And, luckily for you, my search stopped pretty quickly after I found this link through Google Images. It was love! Let me tell you what, those buyers at Free People were ahead of their time! These stockings were made back in 2007! So onward I marched to my sewing machine! It's not weird that I already had the stash of faux fur, right? Right. I knew you'd agree.
Finally, a picture in this post! Drumroll, please!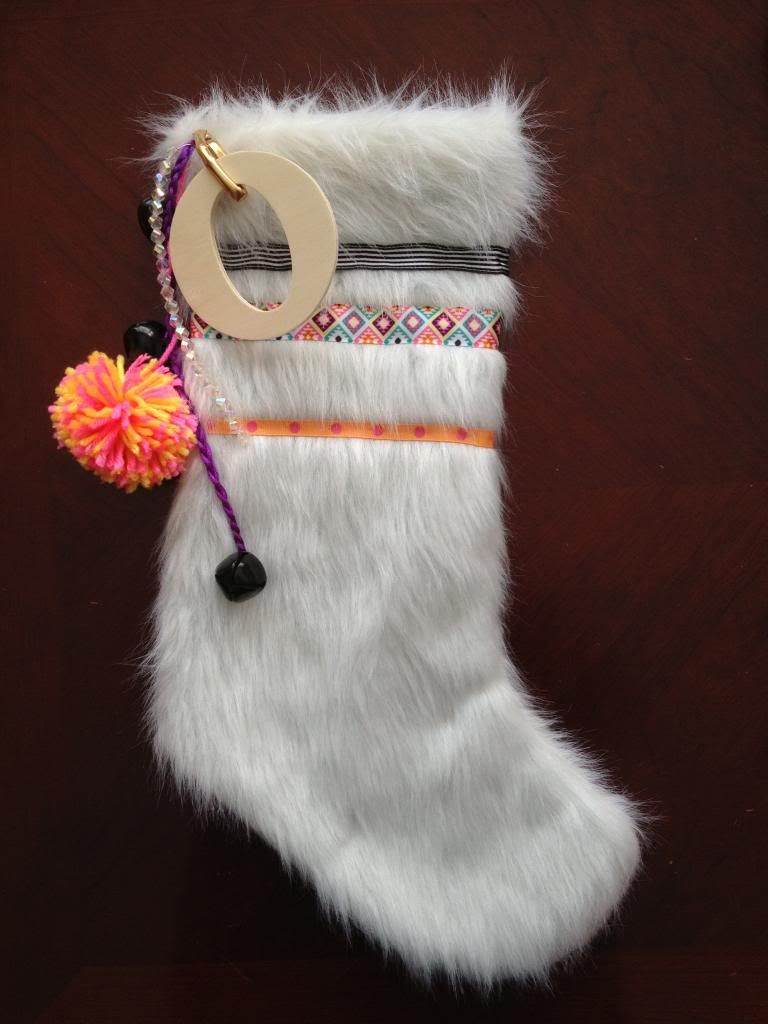 Sure I could have made it more Christmas-y but I saw those ribbons and they spoke to me. They said, "Hey! A faux fur stocking isn't cool unless it's adorned with brightly colored aztec ribbon!" Naturally, I listened. The end result matches Ollie's room colors, too, which still has me tickled.
Let's get started! Here's what you need:
1/2 yard faux fur

1/2 yard lining fabric
3 (or more, go wild!) rolls of ribbon
Thread to match your ribbon (those little sewing kits they tell you are necessary in college work really well for a quick variety pack)
Needle
Sewing Machine
A grab bag of yarn and cords in coordinating colors
Chipboard letter for your wee one (or yourself)
Jingle bells! Don't forget the jingle bells!
Bling
I constructed this bad boy so fast that I forgot to take pictures of the how-to so bare with me as I explain my process.
You're going to start off cutting your desired size and shape out of both the faux fur and the lining fabric. A quick search on Pinterest will deliver you dozens of patterns and templates to follow for making your own Christmas stocking if you really want one. I'm of the "wing it" crafting style so I sketched out my shape on the backside of the fabric and used my first cut piece as a template for the next three (I even used sharpie on the lining fabric – GASP!). However, you'll want to make sure that your faux fur pieces are a few inches longer in the leg than the lining pieces. More on that in a minute.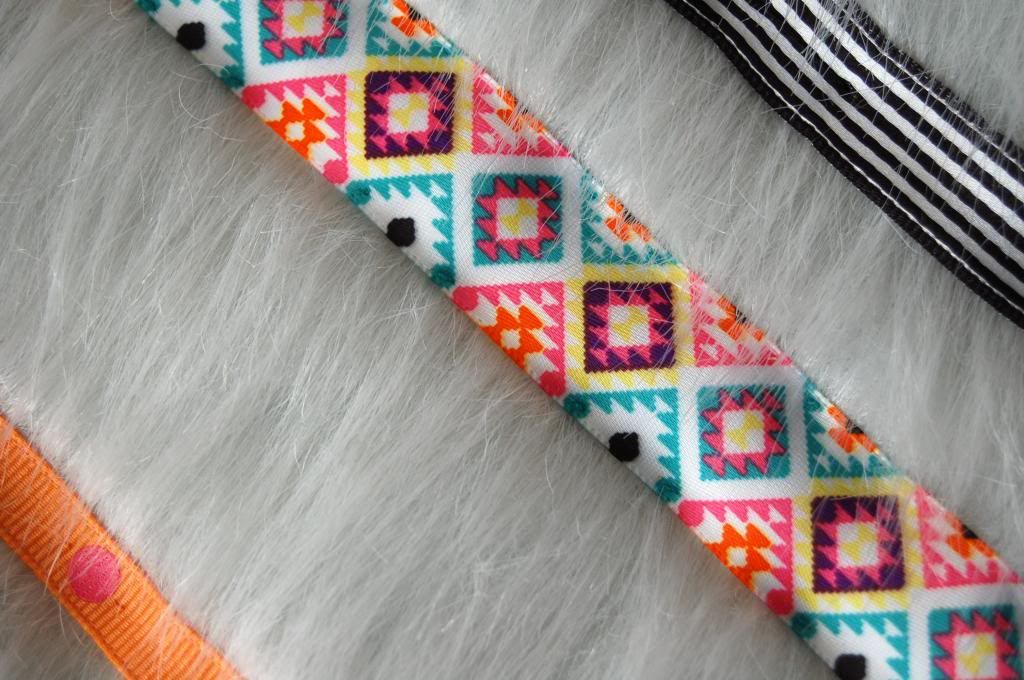 Here's where you're not going to like me. Grab that ribbon of yours along with your needle and coordinating thread. You're going to be hand-sewing those ribbons onto the faux fur portions of your stockings. Can you find where my stitches are? I am still patting myself on the back for how amazingly color matched the thread and ribbon are. Try your very best to line them up on each side so that when you sew your front and back together, your ribbon will be eaten by the seam like the second and third ribbons here: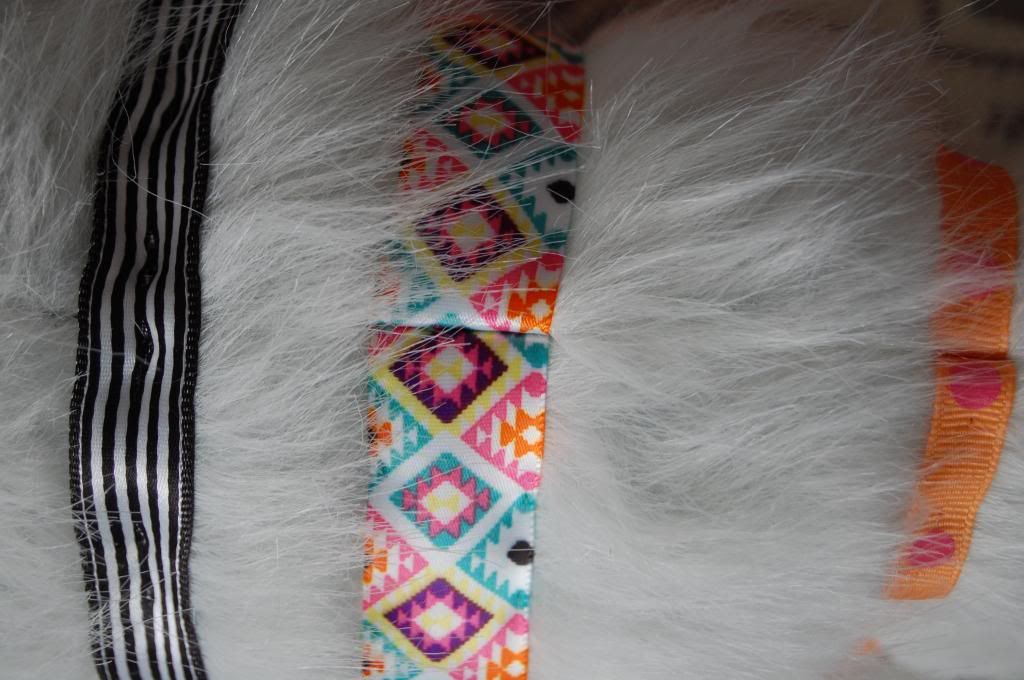 See how that first ribbon has no seam? That's because I sewed the edges of my stocking together (ribbon included) before hand-sewing the ribbon in place and then tried sewing the ribbon on which destroyed my ribbon and I had to rip it out and try again. I really don't recommend following what I did here because the inside will look like the photo below and every time you put a gift into the stocking you won't be able to breathe for fear of catching that damn thread and ruining everything. Everything!
Do as I say, not as I do. Right?
Once you have the ribbons sewn on, grab one half of the stocking (one faux fur piece and it's matching liner buddy). You're going to sew the tops together. My liner fabric was the same on both sides so it didn't matter which side went in but when you do this part (and the next) you want to make sure the sides that you eventually want showing are facing in while sewing. When you are doing this, the foot part of the stocking pieces should NOT line up.
Once you have both liner pieces sewn to their coordinating fur pieces, fold the fur piece down so that the feet portions all line up. You should end up with the fur being folded over and into the top of the stocking. Mine folds over about an inch or two. Something like this:
Line up your four stocking pieces making sure that the furry sides are kissing and your liner is on the top and bottom of your pile o' fabric. Sew your stocking together!
If you want to make a jingle bell braid to adorn your new stocking, it's really easy. Start braiding and then just slide a jingle bell onto on of the strands.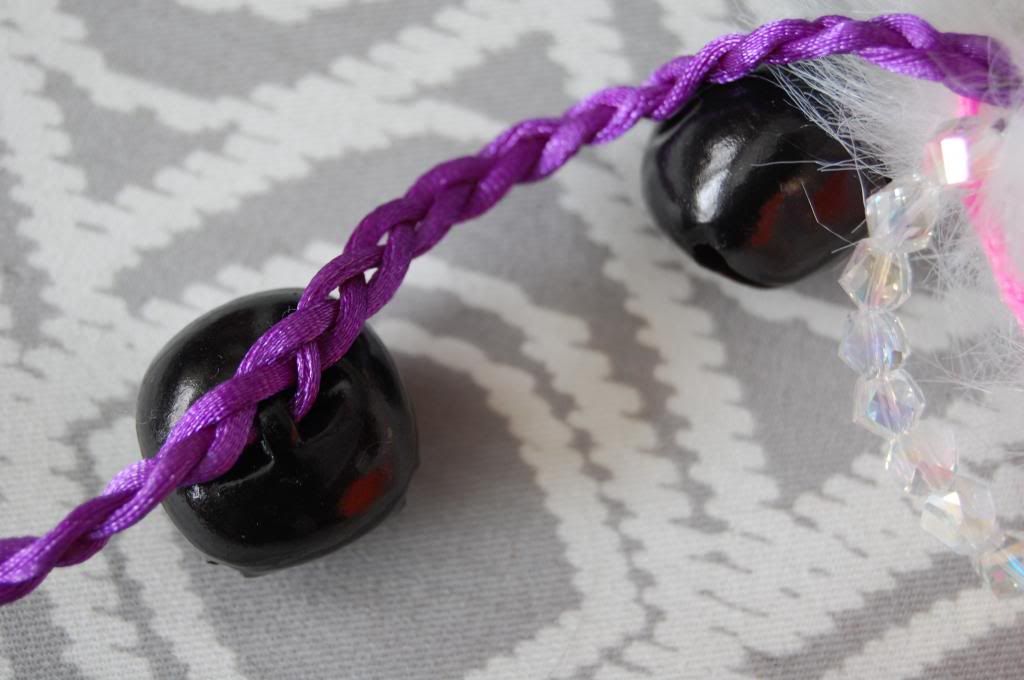 If you're curious about how to thread the jewels, don't! I just bought them in a strand and kept them that way. The pom pom is super easy and there are probably a billion and one tutorials for them on Pinterest, again, so I'm not going to waste your valuable time. All I did to attach the 'O' was use that gold cord I found from Hobby Lobby and tie it on.
Once I had all of the additional pieces that I wanted to add on to the stocking, I added them one by one, stitching them in by hand to where the fur and liner meet. I'm sure there is a much more professional way to do this but I gave them a good tugging and they aren't going anywhere. Plus, no one will see them unless they are stuffing the stocking with presents or taking them out. In other words, no one cares.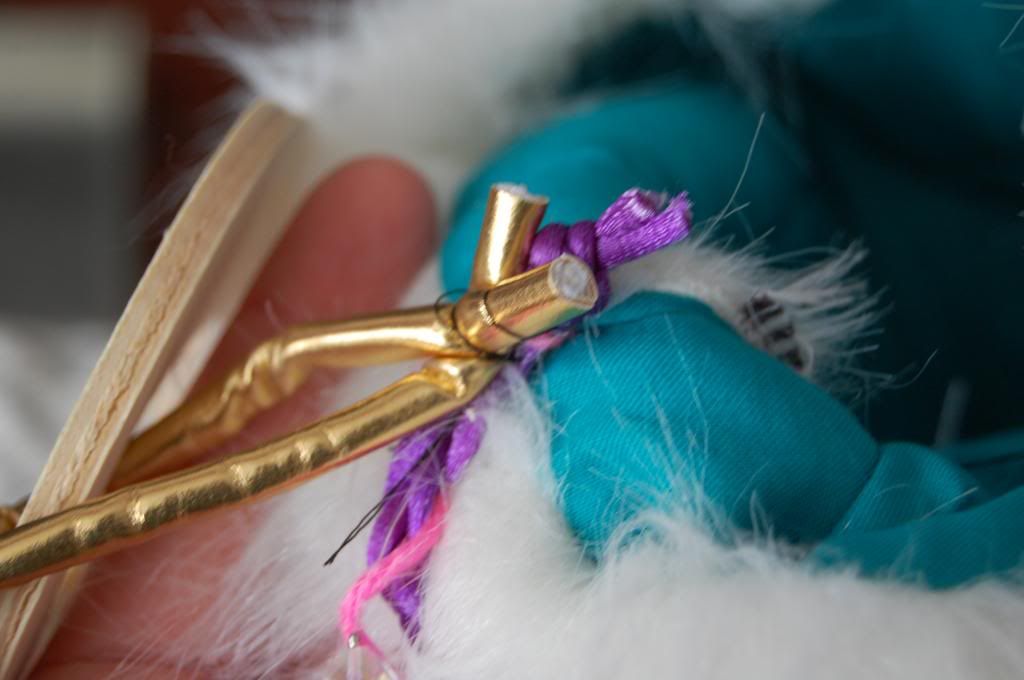 Ta-da!
What happens if someday Olivia isn't into faux fur? That is the day the simple chipboard 'O' turns into a simple chipboard 'E'. Your welcome future self for the coolest Christmas stocking ever.