…or…gliding out? Whatever. Basically, like every expectant Mom, I was pining after rockers like this or this but my budget had me purchasing this:
SPOILER ALERT I turned it into this:
I seriously debated sharing how I did this because, honestly, I don't think you should listen to me about generally anything and I really could have done it better BUT I did it while very pregnant and I actually finished it. Can we talk about what a motivator a bun in the oven is?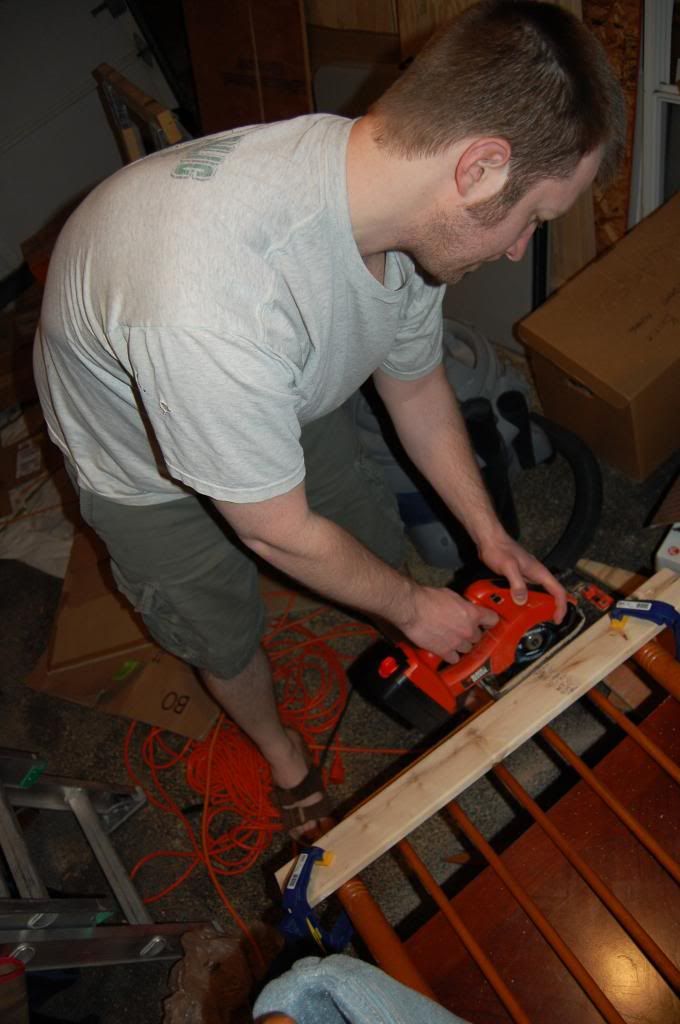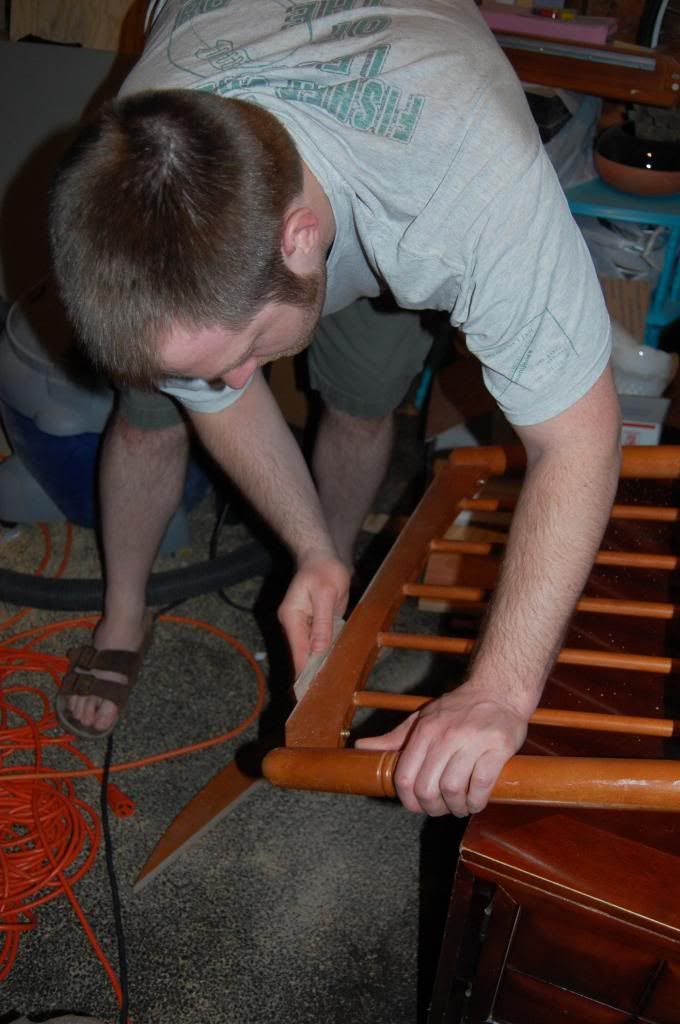 To begin, I needed to change the shape of the chair. Luckily, the man of the house has lots of power tools and jumps at any chance I offer up to use them. This was only a small slice but it was exciting none the less.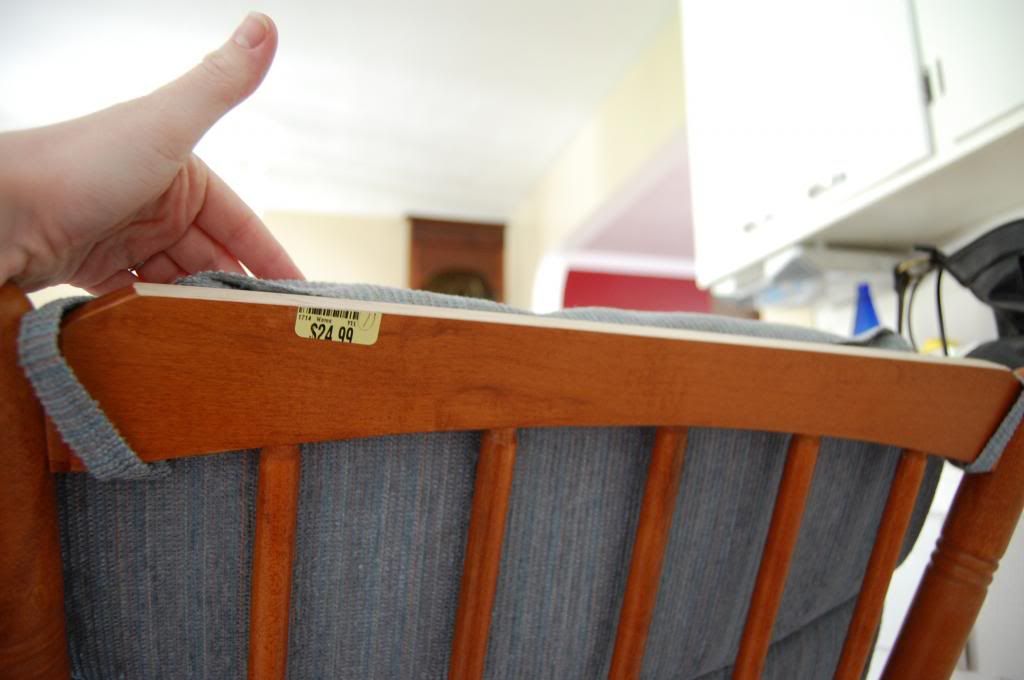 That's right, $25 for the chair and ottoman. Soak it in.
Once the top was square, I ripped the seam on the back cushion and chopped back the foam insert (I feel the need to mention this was all done after throwing every piece of fabric covered goodness into the wash twice and GreenWorksing the crap out of the wood bits). To get it reattached, I went super professional and hot glued it because…why not? (Here is the first place for you to do a better job than I did).
Jerry had brought home this thick foam stuff from work a million years ago thinking I could use it to ship vintage ware from my old Etsy shop but it was never a practical choice. Turns out, the thick foam stuff along with some serious Duck tape made for a really good reshaping team. I just measured, cut and taped and measured, cut and taped until I had the form I wanted. (This is opportunity 2 for you to use better quality materials than I did). Also, I should have used more foam to go all the way down the chair. Now that it's finished, you can see the line where the foam ends once you're done sitting for an hour long boob session.
Instead of jumping straight to my final material, I made a slipcover out of fleece. I figured it'd be a little more forgiving with its stretching capabilities and would give me a nice dry run for the 4 yards of fabric I was going to blow through to complete the overall chair. Measure, measure, measure, cut, sew, cut. This picture was taken before I finished sewing the side to the arm and before I trimmed the hems. I believe I used about 2 yards of the fleece to cover this much of the chair. You're welcome for the awesome iPhone picture.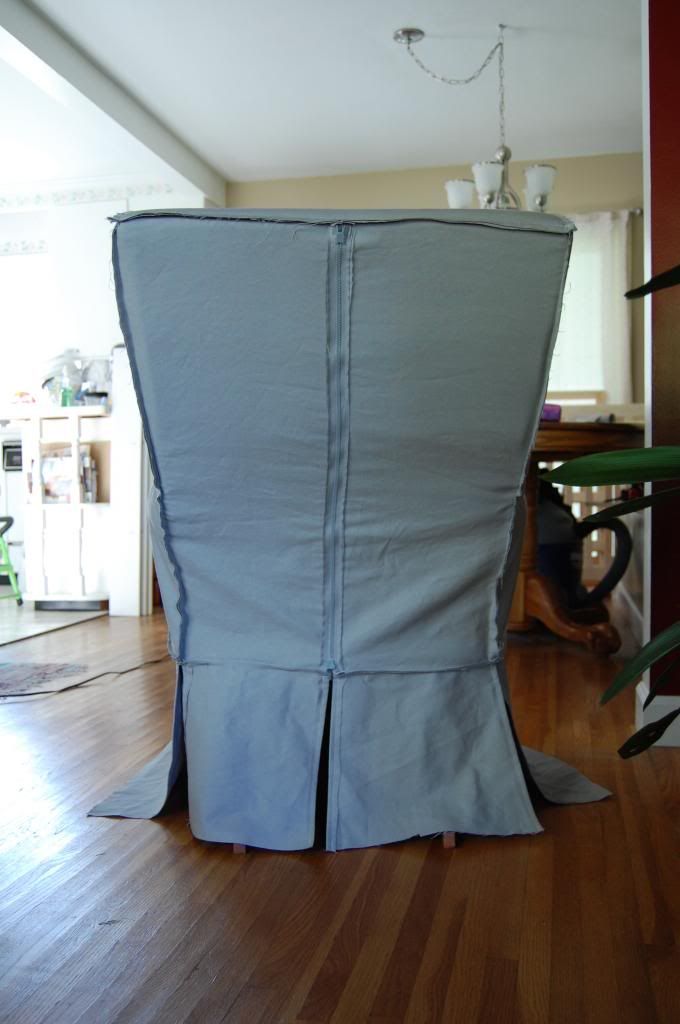 I guess I figured you already knew that you pin and sew this thing inside out. No? Well, now you do. I cut so many individual pieces for this chair redo. I would highly recommend trying to do less. There is a smaller chance you will screw up like me. These pictures are pre-hemming of the skirt. Also, I added a humongous zipper to the back because I highly anticipate boob juice being all over this hot piece of slipcover and I wanted to make it easy on myself to remove it. I basically followed this tutorial.
So, you guys, I told you yesterday I have a 2 week old, right? So you're going to forgive me when I tell you I don't have any more photos to show you how I did the seat cushion and the ottoman, right?
Still, I strongly believe that if you get as far as I've covered here you can do the rest with no sweat. I made the seat cushion using an envelope style and the ottoman…I'm not pleased with how I did it. I wanted to use as few pieces as possible and the square edges I had to sew by hand. We'll see how long it holds up but the ottoman was a bigger pain in the ass than the entire chair.
Wanna try this? God speed! (And send me pictures when you finish)!